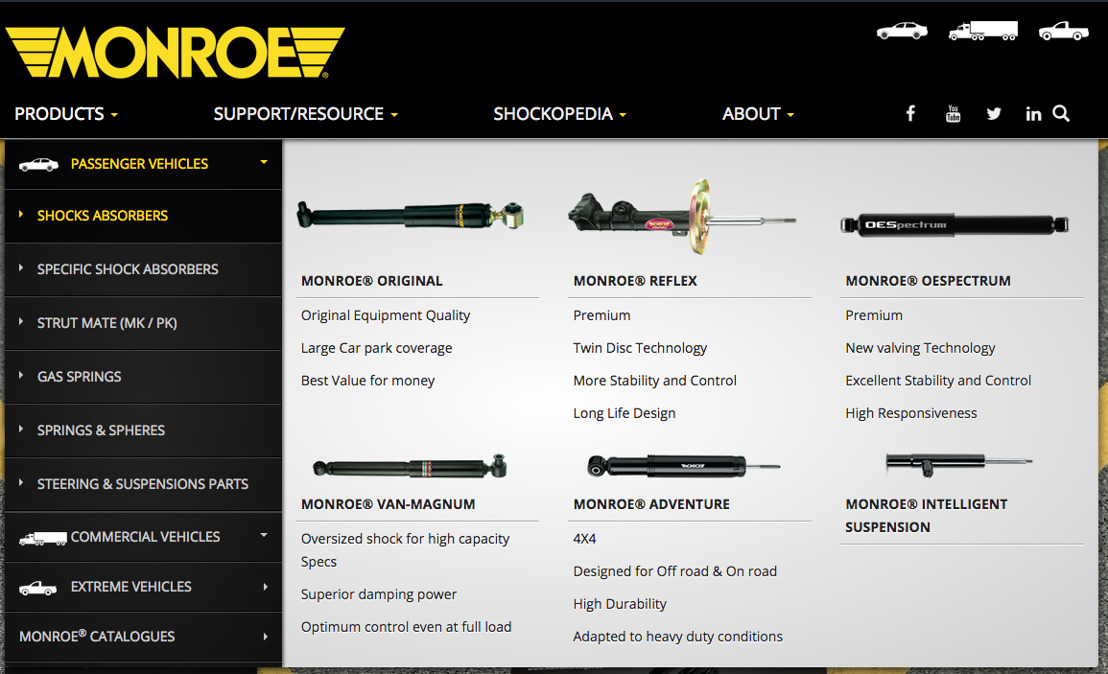 New "Monroe.com" Reloaded!
Tenneco launches Monroe® Brand EMEA Website with Responsive Design
Friday, March 17, 2017 — BRUSSELS, BELGIUM —Tenneco announces the relaunch of "Monroe.com" (http://eu.monroe.com/), the EMEA website dedicated to its iconic Monroe® brand and featuring an all-new, ultra-responsive design that optimizes the site's appearance on multiple digital platforms. The website has become even more user friendly, facilitating product search and identification, and is available in 9 languages. In addition, users can click on links to Tenneco's Monroe product catalogues, which include hundreds of 360-degree product images.
"Tenneco is committed to providing an excellent user experience for all Monroe customers and users, regardless of where they are located and whether they are using a computer, tablet or smartphone," said Bruce Ronning, vice president and general manager, Tenneco Europe Aftermarket. "The new website's responsive design and enhanced product identification have allowed us to accomplish that."
The new "Monroe.com" is product-oriented, featuring a fast and easy-to-use parts lookup tool along with detailed descriptions of Monroe products, including premium OESpectrum® shock absorbers and struts. Additional information about the recently launched OESpectrum range also can be found at Monroe-OESpectrum.com.
Other notable features of the updated Monroe website include:
Link to Monroe's electronic catalogues, which include digital 360-degree product images. Catalogues are Tecdoc® based and available as a pdf flipbook. We have catalogues for the complete Monroe offer: shock absorbers, springs & spheres, mounting and protection kits, steering & suspension parts, gas springs and commercial vehicles.
Dealer locator search tool for many countries
Tailor-made professional services providing:
A "Tech-Talk" service for a quick answer to all technical questions
Picture data library: selective search of logos, products per range
Access to the "New Items" communication - available per range, updated quarterly including pdf pages of updated catalogues
Direct access to Customer Service EMEA
Quick access to technical platform: Tadis®, Fitting instructions, Tenneco TV.
Integrated social media buttons with links to your local Monroe Facebook page, as well as to LinkedIn, Twitter and YouTube pages presenting the latest technical tutorials and local events.
A link to our EMEA AM Newsroom
Detailed information on the brand's history, market leadership and latest programs
A great new tool providing complete product and information support to installers and end users around the EMEA region.