Tenneco reminds Automotive Industry Professionals to always change Shock Absorbers in Pairs
Following proper replacement procedures can prevent adverse vehicle performance characteristics and premature component wear
BRUSSELS, Belgium - August 2018 - Many of the items people use daily are most effective when replaced in pairs. Tenneco, global manufacturer of Monroe® shock absorbers, is adding shocks to the list, and warns that replacing only a single shock or strut could lead to unwanted performance and/or reliability issues.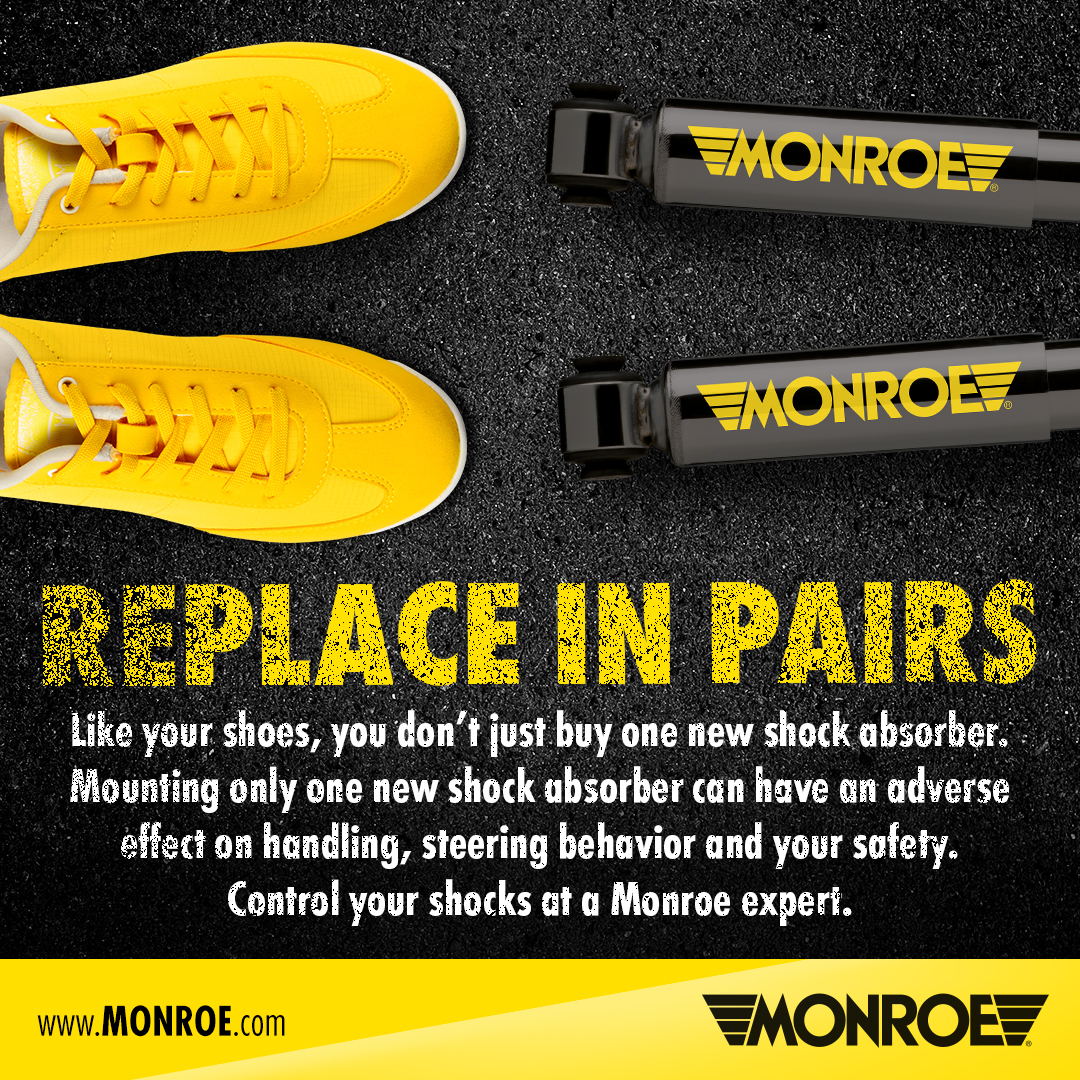 Like other vehicle systems and components, shock absorbers – which stroke an average of 2,800 cycles per kilometer – wear down over time. When replacing one worn or damaged shock absorber, it is important to replace its counterpart on the other side of the vehicle to maintain consistent performance and prevent premature wear.
"Shock absorbers have a direct impact on several key areas of vehicle performance, such as stopping distance, steering response, handling and the ability of the tires to contact with the road surface," said Oscar Oskarsson, senior training manager for Tenneco Aftermarket EMEA. "Replacing only a single worn or damaged shock absorber can have adverse effects on these characteristics. It is critical that automotive service providers always replace both shocks on a single axle to ensure a safe and comfortable ride for their customers."
Because a new shock absorber has experienced no internal wear, pairing it with an old unit could create uneven damping characteristics and cause the newer shock to wear out much faster than expected, because this unit will need to work harder to compensate the wear of the old one. In some countries, the difference may be enough to prevent a vehicle from passing technical inspections.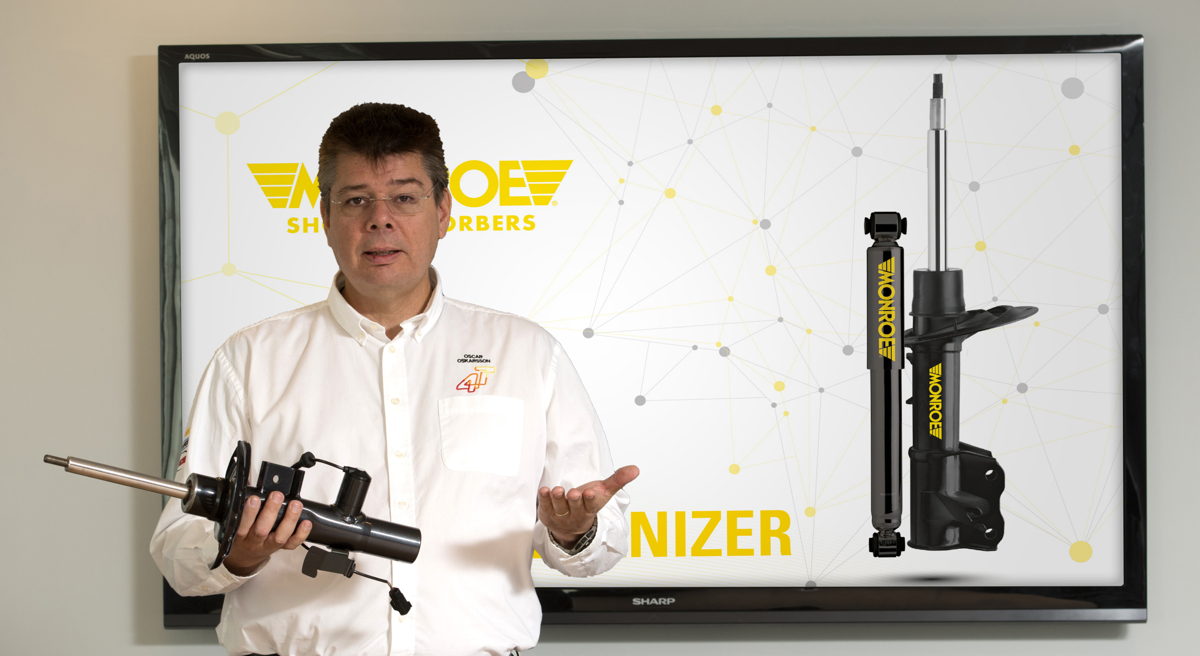 Worn and damaged shocks can have a significant impact on driver comfort and safety, causing vehicles to bounce and sway and increasing stopping distance. These and other concerns could prove hazardous on the road. For this reason, Tenneco and Monroe recommend that automotive service providers check shock absorbers for wear or damage every 20,000 km and always during the periodical service stop of the vehicle.
When performing vehicle inspections, service providers should look for common signs of worn and damaged shocks and struts, damaged steering and suspension ball joints, poor steering response; fluid leaks from the shock or strut body; "cupped" and uneven tire wear; excessive vehicle bounce; and leaning or swaying during lane changes.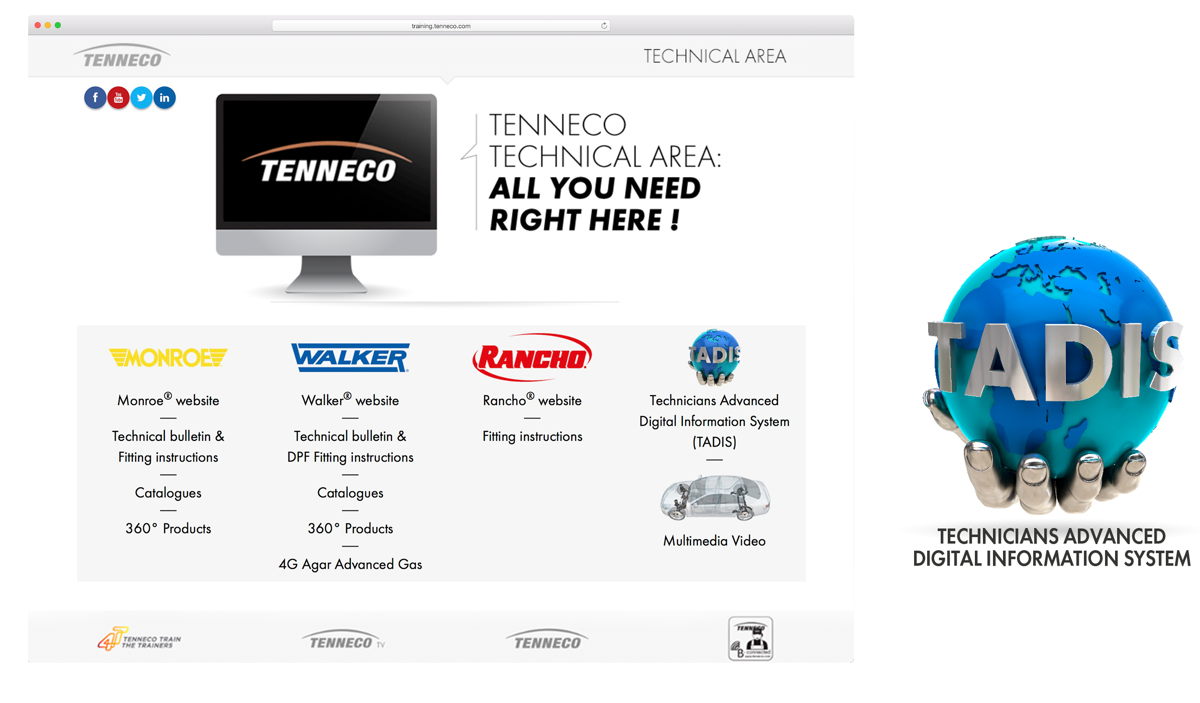 Tenneco supports its range of Monroe products via comprehensive training and vehicle diagnostic information through technical support platforms like the Technicians Advanced Digital Information System (TADIS), which includes thousands of helpful files designed for technicians, installers and other aftermarket professionals. To access TADIS and other resources, visit www.training.tenneco.com or www.monroe.com. Independent aftermarket professionals also have access to Monroe advertising and point-of-sale promotional materials, as well as fully illustrated product catalogues that can be found online at www.monroecatalogue.eu.