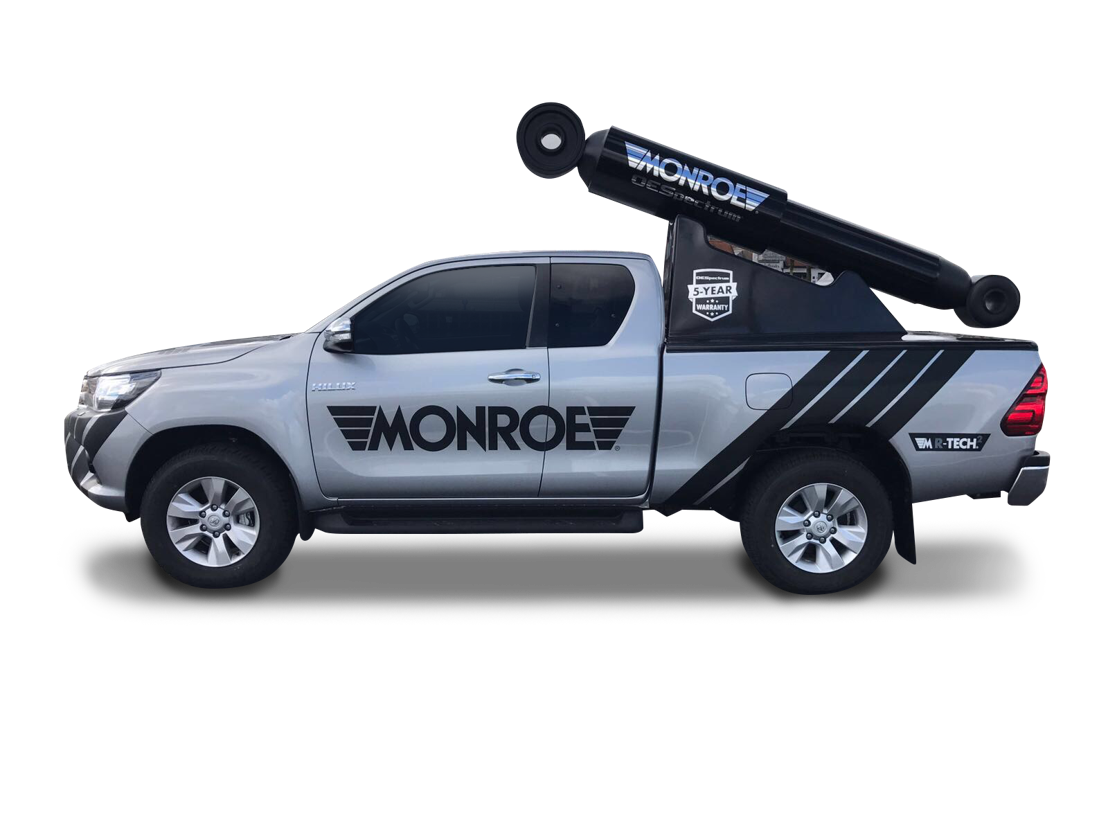 Tenneco Expands 'B-Connected' Tour Fleet
Monday, May 8, 2017 — BRUSSELS, BELGIUM - Tenneco, a leading global manufacturer of vehicle ride control, suspension and emissions control components, has expanded its "B-connected" fleet of customer support vehicles with the addition of 10 highly modified Toyota HiLux trucks. Topped with giant Monroe® OESpectrum® shock absorbers, each new vehicle will support Tenneco's efforts to expand awareness of the Monroe brand in the European market.
"Our B-connected initiative provides workshop professionals with direct access to valuable technical service and promotional resources," said Bruce Ronning, vice president and general manager, Europe Aftermarket, Tenneco. "With the addition of these 10 new vehicles to our fleet, we will be able to offer even broader support to those who rely on Monroe ride control and suspension products."
The first new HiLux truck joined the B-connected fleet at the end of March, while the other nine are slated to come onboard by the end of May. These vehicles will tour various regions throughout Europe, visiting both existing and non-Tenneco customers.
In addition to the new HiLux additions, the B-connected fleet includes 3 "XPO Cruiser" vans and 6 highly modified Mini Cooper, sporty two-passenger coupes, also topped with giant Monroe shock absorbers. Each vehicle is loaded with point-of-sale and merchandising materials, along with a variety of top-quality Monroe products. The Monroe brand offers a total undercar solution, including shocks, struts, mounting and protection kits, springs and suspension parts.
Drivers of 'B-connected' fleet vehicles are highly skilled technical service professionals with extensive knowledge of Monroe ride control and suspension and Walker® clean air technologies. To learn more about the Tenneco 'B-connected' fleet, visit www.monroe.com or contact your Tenneco sales representative. For more information regarding the full portfolio of free technical resources available from Tenneco, including the Technician's Advanced Digital Information System (TADIS).