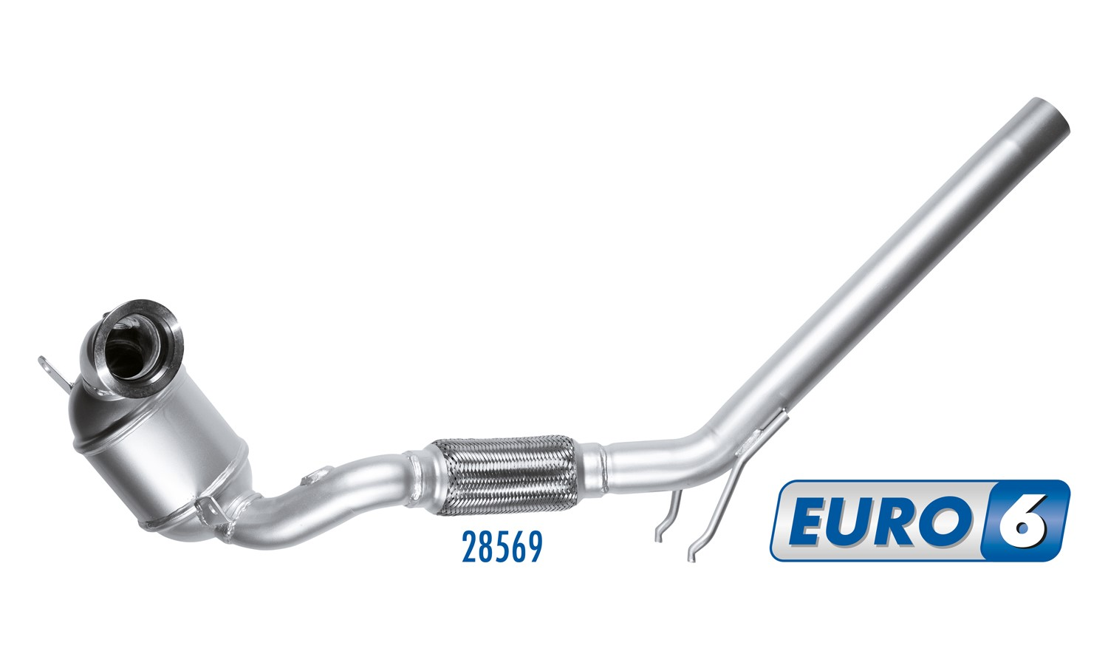 Walker® Debuts EU Aftermarket's First Euro 6 Petrol Catalytic Converter
Friday, September 1, 2017 — Brussels, Belgium – With the debut of its new Walker® Euro 6 petrol catalytic converter, Tenneco has become the first emissions control solutions manufacturer to offer an aftermarket catalytic converter designed to comply with the European Union's Euro 6 emissions standard. Engineered to work in conjunction with Volkswagen AG's 1.4-liter TSI engine found in various Audi A3, Seat Leon, Skoda Octavia and Volkswagen Golf models, the latest Walker converter provides aftermarket coverage and ensures compliance with Euro 6 emissions standards for an estimated 400,000 cars in the EU. Walker launched this product with reference 28569 on June 1.
"As one of the world's leading OE exhaust system suppliers, Tenneco continuously leverages the expertise and experience we've gained from developing emissions control solutions for vehicle manufacturers and adapting our technology to meet the needs of aftermarket customers now and in the future," said Bruce Ronning, vice president and general manager, Europe Aftermarket, Tenneco. "Not only is the new Walker Euro 6 catalytic converter a powerful differentiator in our emissions control product lineup, but it's also an important step in our ongoing mission to reduce harmful vehicle pollutants on a global scale."
According to the European Commission, vehicle emissions such as particulate matter, carbon monoxide and NOx are the most significant environment cause of premature death across the EU, leading to respiratory diseases and related healthcare costs. Implemented in 2014, the Euro 6 emissions standard requires OE manufacturers comply with stringent emissions requirements in an effort to help curb the negative effects of air pollutants.
Through its Clean Air business, Tenneco develops and delivers a complete range of OE and aftermarket catalytic converters, mufflers, electronic exhaust valves and other advanced technological solutions that enable cleaner air, better engine performance and lower noise, vibration and harshness during driving conditions. Its portfolio includes innovative solutions designed to accommodate the unique demands of today's hybrid vehicles – as well as more traditional ICE powertrains – and to reduce harmful emissions in accordance with the most stringent of global standards. All Walker-brand aftermarket emissions control products, including the new Euro 6 converter, are fully homologated to meet Economic Commission of Europe requirements.
Walker product catalogues featuring the brand's range of offerings can be found online at www.walkercatalogue.eu. Tenneco also offers 360° images of many Walker emissions control products to help ensure fast and accurate identification.
Beyond its product offerings, the Walker brand provides workshops extensive support in the form of advertising and point-of-sale promotional materials; fitting instructions; safety data sheets; training opportunities; and technical support available through the Technicans Advanced Digital Information System (TADIS), and the Walker telephone Techline service. Visit www.training.tenneco.com or www.walker-eu.com.
*Euro 6 Petrol Catalytic Converter first in AM